Did you know that August 17th is Thrift Store Day in many countries! Renaissance takes this opportunity to promote the benefits of buying second hand, for our planet and for our community.
Since the fashion industry is one of the most polluting industries in the world, we all need to rethink the way we consume. Shopping at a thrift store is one way to consume more responsibly. This fits in with the "slow fashion" movement by extending the life of clothing that is still usable. Shopping at Renaissance is also about consuming locally because the products there are generously donated by the surrounding community. It's also investing in the community because the revenues generated by the sale of used products are reinvested in social and professional integration programs.
Each year, the donations and purchases made at Renaissance represent more than 24,400 tons of goods diverted from landfill sites (imagine 220 blue whales!) and they allow nearly 2,000 people to return to the work force. And for that, we thank you!
That's why, on Wednesday, August 17th, we invite you to join the #JeTripeFripe event at Renaissance. Whether you're a thrift store aficionado or a newbie, we're offering two irresistible deals to dress for less and always tax-free.
INSTAGRAM CONTEST
From August 10 to August 17, head over to our Instagram page and enter the #JeTripeFripe contest. Get a chance to win one of five (5) $100 Renaissance gift cards. Find our contest rules here. It's easy: Subscribe to our page, "like" the contest post and identify the friends you would like to shop with at Renaissance.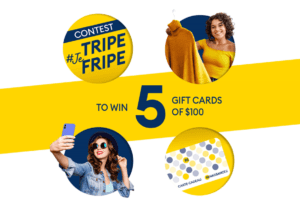 PRIVILEGED CLIENT OFFER
On August 17th, our Privileged Clients will receive double points on their first purchase of $30 or more made in a thrift store or Renaissance boutique. If you don't have your card yet, ask for it at checkout before paying.
August 17th, it's Thriftalicious!