When you buy second-hand, you are helping the environment and also helping thousands of people get back into the workforce. Make somebody happy and be a responsible consumer at the same time. Our thrift stores, boutiques and bookstores are teeming with items looking for a new home!
INSTAGRAM CONTEST
From February 7 to 14, now go to our Instagram page to enter our #ValentinesDay contest. You could win one of two $25 Renaissance gift cards. Read the contest rules.
It's easy to enter: follow our page, add a comment under the contest post describing your plans for Valentine's Day ("nothing" and "finish off a tub of ice cream" are perfectly acceptable answers) and tag your partner or your single friends.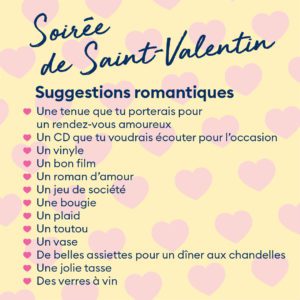 OFFER FOR PRIVILEGED CLIENTS
From February 7 to 14, our Privileged clients will receive double points on their first purchase of $30 or more at a thrift store or boutique, or of $20 or more at the bookstore. If you don't have your "Trésors" card yet, ask for it at the cash before paying. Happy shopping!