From April, 16 to May, 27 support our spring donation campaign. Get ready to support our social mission by bringing items you no longer use to one of our 59+ collection locations.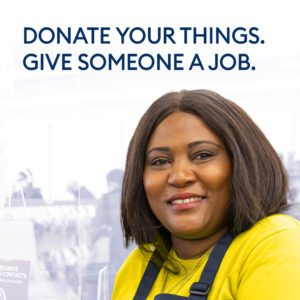 Life brings us to give
From the day we're born, we change. We change weight. We change addresses,  priorities… and every time we change, we leave things behind. By donating things, we no longer use to Renaissance, we can also change lives.
Why to give?
Make a donation in support of a worthy cause is a personal choice for a many reasons. Through the motivation of each donor, discover the motivations to give to Renaissance:
Giving to contribute to our social mission
Your donations work hard at Renaissance. Each year, your generosity allows hundreds of people to return to the job market or to school. Thank you!
Give to preserve our environment
There are several solutions to avoid having to throw away items that everyone has purchased. Giving them to friends, family or to a donation centre is a simple gesture with a big impact. By donating your used goods, you are reducing landfill waste and preserving our unique planet.
Giving brings joy
Being generous towards others brings a feeling of well-being, a pleasant emotion. By donating your used items, you are making someone happy somewhere because each donation is a real gift. T-shirts, books, CD's, sports equipment… let your generosity speak for itself and take the road to a Renaissance donation centre!