Last September, as part of its Social Economy Challenge: Acting to support the ecological transition program, which aims to reduce landfill waste by relying on circular economy principles, the City of Montréal awarded a generous grant to Renaissance. This financial support allowed us to launch a pilot project for recycling textile fibres in partnership with Vestechpro.
A three-part, two-year pilot project:
Part 1: Reduction at the source, which aims to better understand our consumption of textiles and raise awareness in the community, promoting more responsible consumption and thus contributing to a more sustainable lifestyle
Part 2: Reuse of used textiles that can be repaired or transformed
Part 3: Recycling of discarded textiles
Renaissance would like to thank the City of Montréal for seeing the great potential and positive impact of such a project.
Stay tuned as we will soon introduce a section dedicated to this innovative project on our website! For now, we are taking advantage of SecondHand September to emphasize the positive impact of more responsible consumption.
The resale market is expected to increase 11 times faster than the retail sector by 2025*. It already represents more than $5 billion CAD in Quebec, and the Montréal region is the focal point. Buying secondhand means consuming locally and limiting our environmental impact.
Shopping at one of the Renaissance thrift stores offers you the opportunity to buy clothes at affordable prices and without taxes. You integrate secondhand clothing into your shopping habits when you go to the store. This initiative has several advantages. You can:
✅ Find something unique
✅ Buy brands at the best price
✅ Save
✅ Reduce the amount of waste from landfills.
✅ Contribute to the socio-professional reintegration of thousands of people each year
Donating, buying and working at Renaissance is not only environmentally friendly but also contributes to the social economy of Quebec.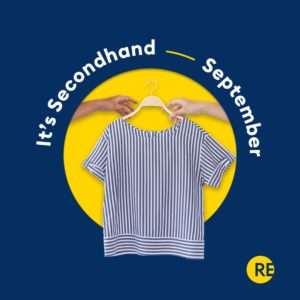 Are you interested in secondhand industry? Every week of September, one of our Ecollaborateur will talk about the secondhand industry,  circular economy, upcycling, and recycling and share tips for shopping at thrift stores. All of which will convince even the most reluctant of this rapidly expanding market!
#secondhandmonth
---
Our first guest was Éric St-Arnaud, CEO at Renaissance. Éric will talk about the importance of your donations, the circular economy, and changing attitudes towards second-hand consumption.
---
Our second guest was Christine Deniger, owner of Le bac rose workshop. Christine offers zero-waste accessories for everyday life in her workshop. Among the topics of conversation: making new out of old or the practice of "upcycling" and tips on how to recycle your clothes. Something to impress a lot of us!
---
Our third guest, Morgane Lenglet, a seamstress who works only with carefully curated second-hand materials (often from our thrift stores!). Based on her experience, she will share her views on responsible fashion and the advantages of recycling textiles.
---
To wrap up Second-hand September, we will meet Lolitta Dandoy, is a fashion journalist and well-known figure in the fashion industry. With Lolitta, we will discuss choosing thrift store items to create a unique style with second-hand clothes. We will also talk about how to raise awareness of this trend among young people.