Renaissance's Christmas drive, our last campaign of 2022, will run from November 27 to December 17. You can do a good deed by bringing items you no longer need or use to one of our 60 collection centres.
Every donation is truly a gift
Every year, the holiday season is synonymous with great generosity from the community. Our donation centres welcome thousands of donators laden with clothes, accessories, toys and more, "because giving brings joy"!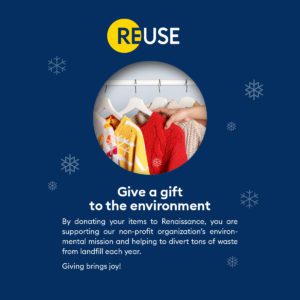 Whether it's the little wool sweater you no longer wear, your vinyl collection that you no longer spin or your winter boots (as long as they don't leak), every donation counts. If you're not sure whether something is worth donating, ask yourself: "Would I give this to a friend?" If the answer is yes, then let yourself be moved by the spirit of the season and head over to a Renaissance donation centre!