New boutique and donation centre to open in Gatineau!
Renaissance is very pleased to be preparing for its arrival in the Outaouais region. On September 26, 2023, a new Renaissance boutique and donation centre will open in a 3,000 sq. ft. location at Galeries Aylmer in Gatineau.
Shoppers can look forward to a vast selection of used, tax free clothing and household items, for a winning combination of big name brands, small prices, and endless options! Gatineau locals who would like to support Renaissance's social and environmental mission will be able to bring their used clothing and household items to the donation centre at the back of the building.
At Renaissance, used items are reused, people are reintegrated, and the proceeds are reinvested in the community.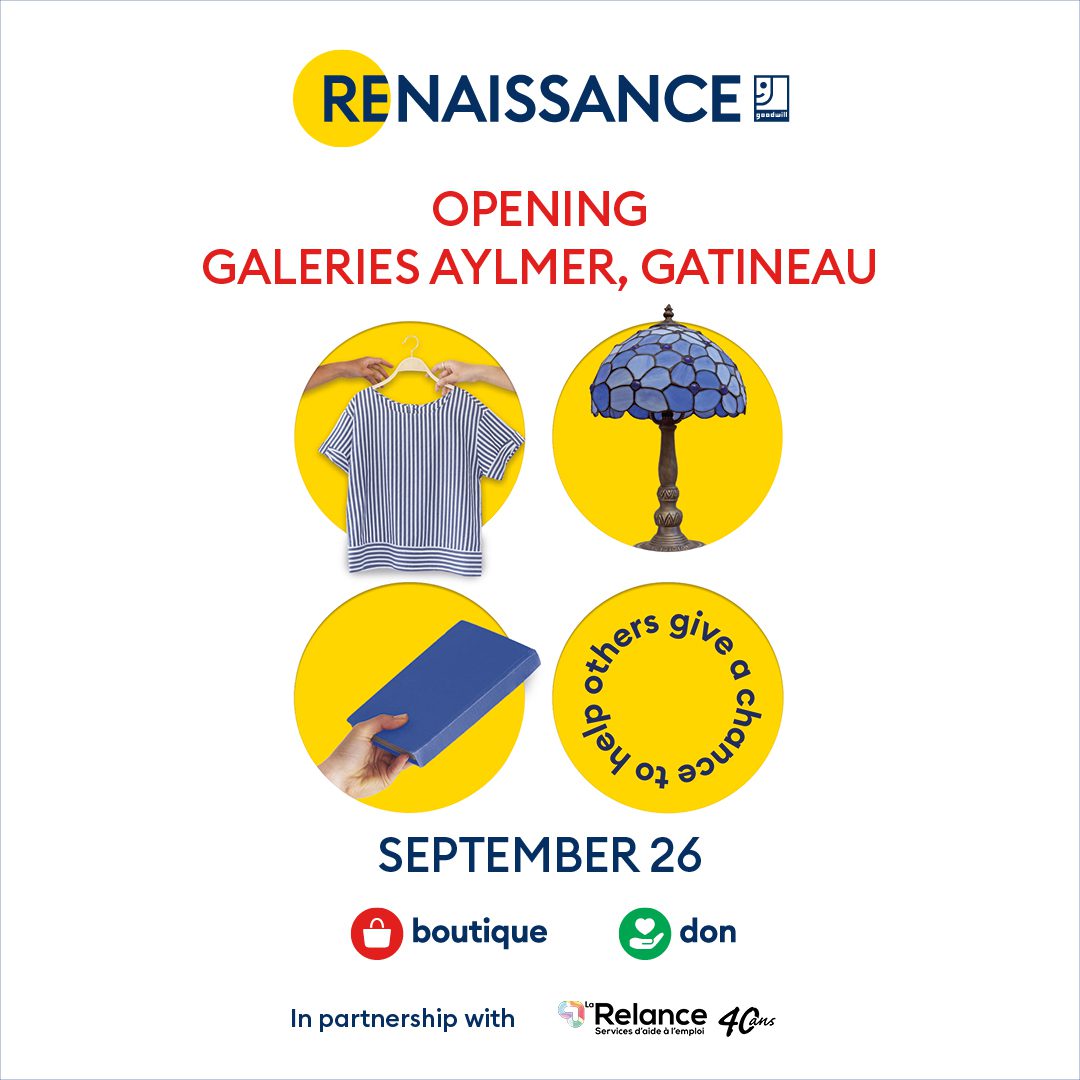 Building ties with the community
"As it expands into new parts of Quebec, Renaissance is partnering with other organizations to meet the needs of local people and further our mission," says Éric St Arnaud, CEO of Renaissance. "In the Outaouais region, we have partnered with La Relance because of its recognized expertise with the local clientele and its alignment with our values and mission."
Both organizations create opportunities for social reintegration and have a shared mission: to provide support and training to help people enter the job market while offering their diverse customers second hand goods at affordable prices.
Gatineau was a logical choice for the latest Renaissance location to open outside the Greater Montreal area. Says Éric St Arnaud, CEO of Renaissance, "Gatineau is known for its exceptional quality of life. It's a young, hip, vibrant city, so it's a great fit for us as we pursue our mission."
All are invited to come by and see the new boutique for themselves and to bring items in good condition they no longer use to the new donation centre.
By donating and shopping at Renaissance, everyone can do something good for the environment.
Together, let's give back to our communities!